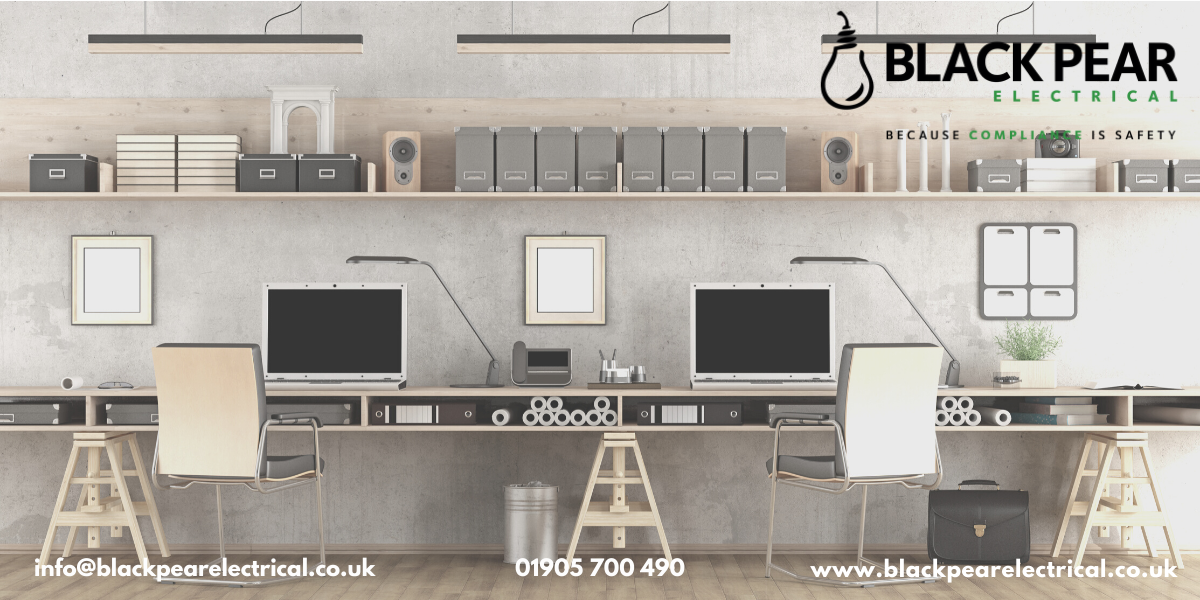 If you're a manager or director in charge of an office, as duty holder, it's your legal responsibility to ensure that the office is safe by maintaining the electrics in good working order, with regular inspections.
The responsibility to keep electrical systems safe & well maintained at all times comes under the Electricity at Work Regulations 1989, where the requirement to provide ongoing evidence that you are doing so, is also stated. To do this you require an Electrical Installation Condition Report (EICR)
The reason for the law is simply to keep people safe.  Having well-maintained electrical systems reduces the risk of electric shock, failure of systems and electrical fires. Here in the UK, there are about 1,000 electrical fires every year.
The regulations apply to every business, whether you're a sole trader or a large commercial organisation and to both staff and visitors to the office. So, how can you be sure you're compliant? If an accident does occur because of your electrical system, being able to produce an up to date EICR and / or maintenance records can act as proof that you fulfilled your legal responsibilities and that you are not criminally liable for the accident.
What's involved in an EICR?
The electrician will both visually inspect the system and carry out a series of tests on the "hard wired" installation. Ultimately these checks will determine whether or not the installation or any part of it are safe for continued use. In general they will show if  installed correctly & alteration carried out correctly, whether there has been any degradation to the to any part of the installation as well as comparing against current standards and regulations to suggest any improvements that could be made.
Sometimes people are concerned that testing the systems will result in a loss of power in the office or may disrupt their IT systems and computers. For this reason, Black Pear Electrical carry out a full site survey to identify any potential disruptions so the inspection and any required shutdowns can be scheduled to minimise or eliminate any disruption
For offices, it's generally recommended you ask for these checks every 5 years.
Any required or recommended remedial works that are  identified will be detailed in the EICR. Black Pear Electrical also provides a covering letter with each report summarising any findings with actions and if necessary a detailed remedial works planner.
If repairs are required, you are free to organise these through a different electrician if you wish, however make sure they provide you with an Electrical Installation Certificate (EIC) or a Minor Works Certificate (MW) as evidence that the faults have been fixed. Again, it's important to keep these documents as evidence.
New installation or altering existing electrics
Take advice about your office space from your electrician, whether you are planning a new office from scratch or upgrading the existing electrics in your workplace. They'll help you plan the layout so the light sources are well placed, the emergency lights are correctly positioned, and the electrical cables and sockets can be fitted safety and as unobtrusively as possible in the space.
Emergency lighting
If changing the layout of an office it's especially important to ensure your emergency lighting system is still fit for purpose. Did you know emergency lighting batteries generally need changing every 5 years – don't wait until you actually need them, keep them maintained!
Testing requirements are:
A monthly functional test
An annual full drain test – to ensure the batteries are still holding their rated charge time (most commonly 3 hours)
Black Pear Electrical engineers are qualified to design, install and maintain emergency lighting systems so you can trust that the system is suitable. Black Pear Electrical can ensure your testing programme and audit trail is in place.
Maintenance you can do yourself
This is largely visual – be vigilant for any damaged equipment or accessories. Look at your office equipment such as PC's, printers, lights, even the kettles and toasters in the kitchen.
Are all the cables undamaged?
Do the wires into the plugs look secure or loose?
Are there tangled masses of cables under desks or trailing along the desks that should be tidied up?
Professional maintenance and legal checks
Get all the electrical equipment PAT tested – the electrician will label each of these as safe and put the date the check was caries out. Keep a note of these dates on record so you know when they need doing again. Portable Appliance Testing (PAT) also falls under the Electricity at Work Regulations 1989. If you have a large number of items it may be cost effective to invest in test equipment and training a member of staff to carry this out. Remember to keep your testing records up to date and ensure all items are labelled as passed or failed
If you have any questions about your EICR our Black Pear frequently asked questions page should help.  If you'd like to ask for advice call us on 01905 700 490 or email us here.