The Department of Transport has announced that as of immediate effect they are scrapping the grant worth £1,500 to help consumers buy electric cars.  They insist that the funding will instead be 'refocussed' towards helping towards providing more public charging points and supporting the purchase of electric vans, taxis and motorcycles.
By 2030 there will be a ban on the sale of all new petrol and diesel vehicles, and there are concerns being raised that the closing of this particular grant scheme will send the wrong message to motorists. But it also goes to show that availability of grant schemes and funding is finite. So, if you can take advantage of the grants available do so now – don't wait.
The EV Infrastructure Grant has only recently been announced, and there has been no timescale on the longevity of the grant stated. In fact,  OZEV states that the funding can be withdrawn at anytime with just 4 weeks notice being given.
The funding available through this grant is not to be jeered at, and is available to SMEs  who wish to allocate a minimum of 5 parking space to EV charging in private carpark for use of their employees of fleet and also for landlords with residential carparks who wish to give their residents access to EV charging. Best of all as long as just one charger is installed at the time of the grant application, you can just put in place the infrastructure for the additional points which can be installed at a later date, and for which you can then claim the WCS (SMEs) or the EV Chargepoint Grant (landlords) to help toward to the cost of the charge points.
As an example of how much can be claimed we have used the following direct from the governments' website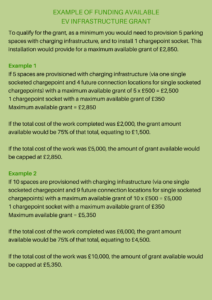 But it gets even better, SME's (classified as having 249 or less employees) can claim this grant up to 5 times, providing each application is for different business addresses, each grant is capped at £15,000. Landlords can claim this grant up to 30 times in a single financial year but each application must be for a different building, and each grant is capped at £30,000.
You must use an OZEV authorised installer for these works, such as Black Pear Electrical, so if you are considering installing EV changepoints or just getting the infrastructure in place, now really is the time to act and take advantage of this funding, as we really do not know how long it will be around for.
For further information on the EV charger installation click here or give us a call on 01905 700 490